I really love this game, so I'm devoting this entry to it :)
I've been playing for four years now, a friend at college got me into it. She eventually dropped out of it, but I really got hooked. It's a real virtual world in the sense that things will sometimes change to reflect the passage of time. For example, the ruler of the human capital of Stormwind at the beginning of the game was young Anduin Wrynn, a boy barely ten years old whose father was missing. Highlord Bolvar Fordragon and Lady Katrana Prestor helped him rule. Now Anduin's father Varian has been found and restored to his throne, upon which now Lady Prestor no longer stands in the throne room. You'd have to read the comic series to really appreciate the reason why. Also when he returned Bolvar was relocated to Northrend, but now he's MIA. After the Wrathgate attack (one of many scripted ingame moments which plays like a movie when triggered) his body goes missing. The only one who knows for certain is the Dragonqueen, and she's not talking. My money is that he somehow survived the attack. Anyway, have a glimpse into Azeroth:
The throne room in Stormwind Keep. The actual throne was installed when Varian was restored.
One of my mages in the Temple of the Moon in Darnassus, the Night Elf capital.
Lianaria, who is one of my Death Knight characters, in the Stormwind Canal district. If you talk to the little girl in the flower shop and tell her you like flowers, she showers you with rose petals.
The results of an escort quest. The player has to escort the guy on the left to Uther's Tomb, in Sorrow Hill in the Plaguelands. The floating figure is the spirit of Uther the Lightbringer.
Best anyone ingame can figure, this is a pimp. This is Murder Row in Silvermoon City, and he'll stand there all night with the succubus minion but he disappears into one of the buildings during the day.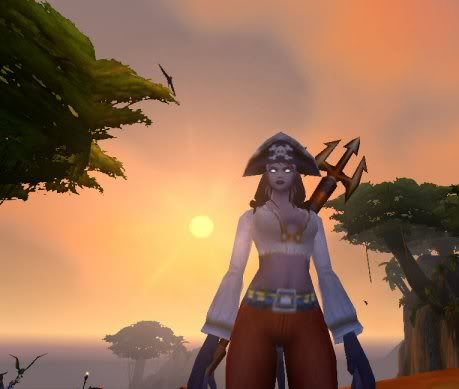 Arrrr, Pirate day in Booty Bay. We partied on top of the bank.
Winter Veil (Christmas) in Ironforge.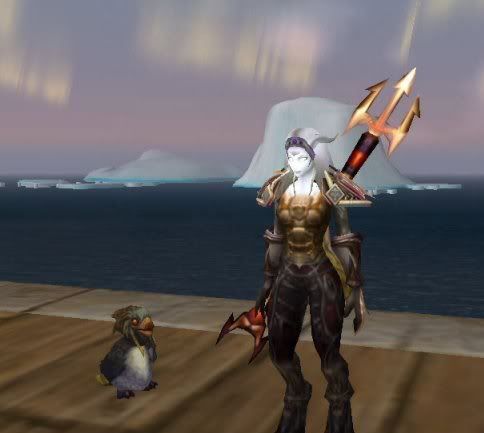 Elunirra, my highest level Alliance character. Here she's at the docks in Borean Tundra with Pengu, the pet penguin beside her. Looks a little demonic, doesn't he?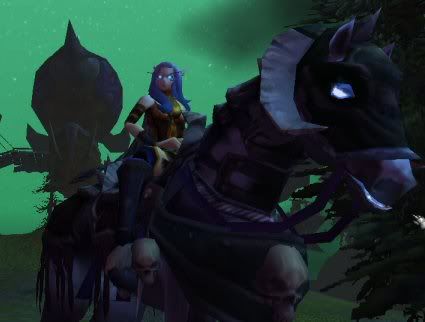 Kandreline, my highest level Horde character. I've been level-grinding her lately so that I can go to Northrend and see it from the Horde's side. Tirisfal Glades is so depressing.
Kandreline's venomhide raptor. I'm on a quest to train that little guy to be a mount.