Four o'clock came fairly quickly, and I took my walk to the post office to pick up my package. I've been expecting a few things in the mail, so I wasn't entirely sure what it was going to be. I think the lady at the post office had a long day, because she asked me for proof of my address which was on the back of the I.D. of mine she was looking at >.> Ah well, got my package (click on the pics to see the full):
And it turned out to be my Christmas gift from YesAsia.com! I actually wasn't expecting it so quickly, but I'm certainly not complaining! This is what was in it:
The middle and right side mags are actually the same ones, I ordered two and used them to show front and back cover. One is a belated Christmas gift for Tessa, so I have to get that shipped out to her. Japanese magazines are a bit of a culture shock, majority of them are read what would be 'backwards' to us. And they're HUGE, they're bigger than ours for the most part. The ripped parts on the book is just a tab wrapped around the book, I'm not too concerned about it. The actual dustjacket isn't ripped, that's all that matters to me :) I'm so happy it's here! Now I just have to figure out how to get the CdJapan order sorted out and I'll be golden. Gackt just pushed back the release date of the RRII dvd again, this time to March 31st, so CdJapan won't ship the rest of the order until then. So hopefully customer service will seperate that as a new order and send the rest of the stuff, or we cancel and reorder. I'm hoping for the latter, I opted for free shipping on everything so there wouldn't be any changes.
These were some other gifts that came in the mail on Monday: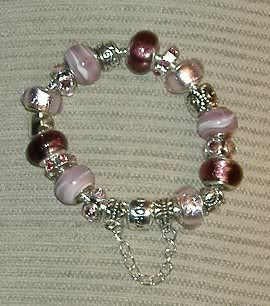 Full Pandora bracelet, Mom's order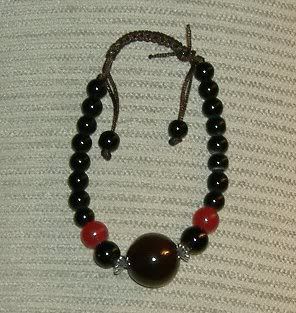 Free gift with the Pandora bracelet
My lapis lazuli bracelet. All the beads are real lapis lazuli ^_^